Thanks to a bunch of recent developments, this is a great time to explain how upgrades maintain and improve the Highlands Fiber Network. HFN is one of the earliest fiber communities, a pioneer! Since the start, the network has received numerous upgrades to maintain its quality and keep delivering state-of-the-art service. Unlike conspicuous upgrades, like when a home first gets Quantum Gig Internet access, most improvements go unnoticed.
This fall several upgrades were made to the 15th Avenue data center that will help to improve the function of the HFN network. Many of these upgrades are unnoticeable to you, until some unforeseeable issue occurs, hopefully that will never happen. However, in the case of any unforeseen issue the 15th Avenue data center will be able to handle any issue and ensure the data centers function is uninterrupted. This is important to HFN customers because you will be able to continue to send and receive email, stream data on multiple devices in your home as normal.
Along with the generator, a new uninterruptible power supply (UPS) delivers 27 kVA of backup power. A UPS provides It bridges the time from when the power goes out, like during a winter storm, to when the generator comes online. This larger UPS extends backup time from 13 minutes to 46 minutes. That 46-minutes is a generous amount of time for troubleshooting if the generator does not kick-in like it should. Also, new software will now notify HFN's Network Operations Center the moment a failure occurs. Finally, the UPS can power the data center during planned maintenance, so you do not experience outages.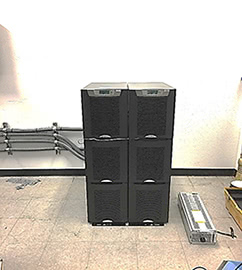 New Uninterruptible Power Supply
One of the newest additions to the 15th Avenue data center is a modern 50 kVA generator. The old 35 kVA generator dates back to the early 2000s. With higher output, it will easily sustain the data center's full load for many years to come. It looks better too. The top of the generator sits closer to the ground than the one it replaced and is almost impossible to see from the street.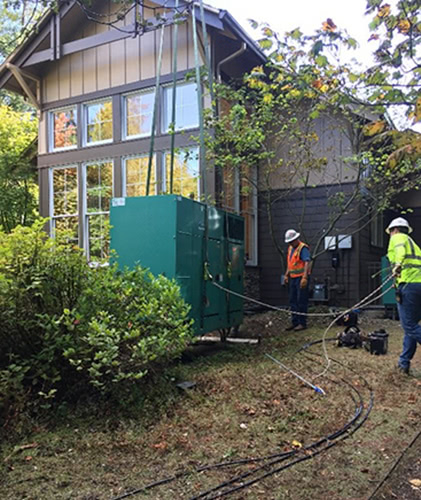 Older Generator Getting Removed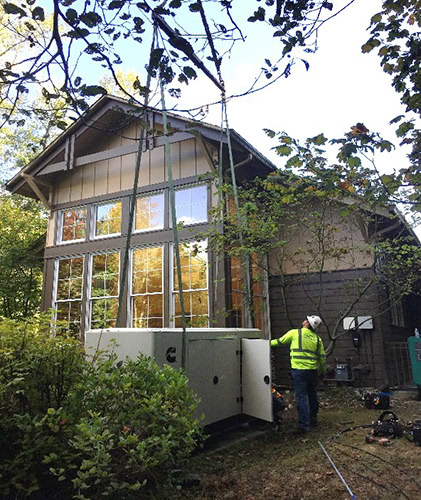 New Generator Being Installed
New main and sub power panels were added to support the new UPS and new generator. Each panel is rated at 250 amps, which fits today's standards for commercial panels. All electrical outlets and lights inside the 15th Avenue data center are now on UPS or generator backup as well.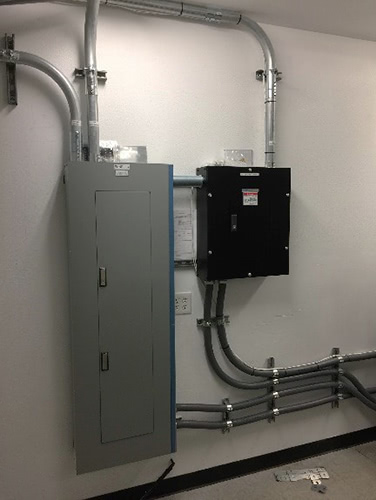 New Main Panel and Maintenance Bypass Switch
A brand new NOVEC 1230 fire suppression system makes detection of outbreaks easier to spot and communication with the local fire department more reliable than ever. Should a fire break out, this new equipment greatly reduces the potential for excessive damage, high repair costs or a prolonged downtime. It has two smoke detectors and two heat detectors. If either is sensed, the system discharges fire suppression gas. A bypass switch prevents accidental discharge during maintenance.
Upgrades and replacements ensure the Highlands Fiber Network remains a premier optical fiber network with fast speeds, dependable reliability and strong security. Highlands Fiber Network Customer Service can help you get the most out of your Network. They are available 24/7 at 425-427-0999, www.highlandsfibernetwork.com or support@hfnservices.com.